As I said at the St Catherine's ADM, I feel like I'm in a slightly odd position giving the annual report, as I've only been here 5 months. Nevertheless, that is what I have to do, so here goes. Firstly I'd like to pay tribute to the man who stood here last year to give this report. John Grice's ministry here, throughout his curacy and in the vacancy was a real blessing to this church and to me as I moved into post. I also want to pay tribute to Mark Ireland, and his work here, leading this church in a way that laid the foundations for the good things that we will celebrate tonight. We also miss Richard and Linda Kirby and their particular gifts and ministries over many years.
When I spoke on vision for a church earlier in the year at three of the congregations in the parish, I noted the importance of understanding what is surrounding us now. What is the reality of our situation. I shared a little bit about what I'd seen in my first couple of months here, and I want to expand on that a bit this evening, drawing largely on the parish profile that was put together by the PCC in preparation for the recruitment of the new vicar, who turned out to be me.
The parish profile is 20 pages long and details the many ministries of the churches, their history, the key values, the accounts, the context of ministry here. It is a really thorough document. When I read it, prior to coming here, there were a few things that caught my eye particularly:
1) The population of Wellington is approximately 25,000 of which about 15,000 live within the Parish.
Annual Church meetings are always full of numbers. There's the Electoral Roll report, the accounts, the number of PCC members we need to elect, but for me, this is the most important number. If we don't remember any other number from this evening, this is the number to remember. 15,000. That is the number of people in this area that we are responsible, as the parish churches, for sharing the good news of Jesus with.
2) Our children's and young people's groups are going through somewhat of a low period at present which is intended to be addressed by the recent appointment of a full time Children's and Youth worker and a half time Families Outreach Worker.
This, for me, is a really good example of an issue that was identified, plans were made to rectify it, resources were committed to it, and it has borne fruit. The number of young people and families involved in our worshipping community has grown significantly this year. This is testament to the hard work and commitment of Abby and Susie and all those who have worked along side them and supported them. It's not just visible in the numbers of young people in the worshipping community, but in the confirmations, the admissions to communion, and the Alpha course that is currently running with some of the mums from these families. This growth in numbers, and in depth of discipleship, amongst our children, young people, and families is something good that God has been doing amongst us that we can celebrate.
3) All Saints' has operated a Ministry Team since 1993 made up of both ordained and lay members of the church. The original concept was for each Team Minister to be in charge of a cohesive related portfolio but in recent years the edges have become rather blurred with a corresponding reduction in effectiveness. The new incumbent may wish to take the opportunity to restructure the team.
Since this was written, the Ministry Team has become blurred to the point of disappearing. The leadership structure that served this parish well for 20 years has gone. It seems to me that it was designed largely to support and facilitate the life of a parish that was focussed mainly on its Sunday morning congregations and that it was developed at a time when patterns of worship and availability for meetings and other organisational activities were different. One of the pieces of work that the new PCC will need to do over the next 12 months is to develop a new pattern for the leadership of the parish. Initial conversations and research amongst other churches of similar sizes reinforce the need for a team of 8-10 to have strategic oversight and leadership of the church. Exactly what that will look like here I'm not sure yet, but we will need to work it out. It is likely that some of the tasks that were done by members of the Ministry Team and other leaders in the church, such as the churchwardens, will need to be devolved and delegated out into a wider group of people, giving more opportunities for more of us to be involved in the ministries of the church.
4) Mission Action Plan last reviewed Feb 2015
I do not intend to revisit the Mission Action Plan for some time. We have a mission statement "Called to be Closer to Christ, Sent to be Closer to Others". This seems to me to continue to have life as a summary of what we are about.
When I spoke on vision earlier in the year, I talked about the importance of there being a common vision, an agreement about what you are trying to build, otherwise you can end up working at cross purposes. At least one person contacted me afterwards and said that they'd understood that, but had I actually presented a vision? And I hadn't. I hadn't because I don't believe that it can just be my vision. In some sense it has to be our vision, and that is something else that we are going to be working on over the coming year.
I have had some thoughts on this, as you might imagine, and I'd like to share them with you.
Picture 1 – Bethany
I've shared this image with you before. It formed the heart of my sermon when I came to interview here, and I showed it at the service at the beginning of the year when I was talking about the vision for the parish. It represents a meal at Bethany, with Jesus in the centre, and Mary, Martha and Lazarus relating to Jesus in worship, service and friendship. This remains as something I see as important, that we are a church that worships, that serves and that lives in friendship with Jesus at the centre.
Picture 2 – All Saints is golden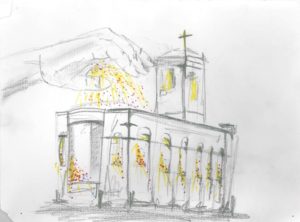 This was drawn by Hope Gwilliam some time ago. I saw the original in Susie's office a little while ago and it just struck me. I love the sense of God pouring treasure into All Saints. It reminds me of the verse in Malachi in which God says,
"Bring the whole tithe into the storehouse, that there may be food in my house. Test me in this,' says the Lord Almighty, 'and see if I will not throw open the floodgates of heaven and pour out so much blessing that there will not be room enough to store it."
For me it also links in to a picture that was given at a Sunday morning service a couple of months ago, of people at All Saints going out of church with gold dust on them, scattering gold as they go out into the community. You see the gold and jewels that God is pouring into the church are spilling out of the windows to the community.
For me there is also something of the city on a hill that cannot be hidden about this, the glow from tower a kind of lighthouse to the world.
Picture 3 – Strawberry
As I've been thinking and praying about this parish since I got here, the idea of a Strawberry plant has kept coming to me. Strawberry plants don't get very big, but they are very good at reproducing. They do this by sending out runners on which grow new strawberry plants. The new plants share the same DNA as the original plant, and as long as they stay attached they draw resources from the original plant. When they are mature and ready to be fruitful they can be detached.
It seems to me that the parish, with its different congregations looks a bit like a strawberry plant. The congregations share the same DNA, the same core values of being called to be closer to Christ and sent to be closer to others. The younger congregations still draw resources from the more established congregations. Some of the newer ones are beginning to bear fruit.
I am left wondering whether this is going to be a model for how the church in this parish is going to grow in the future. Maybe the central plant will never grow beyond a certain size, but the church can continue to grow by developing new off shoots – not perhaps as prolifically as a strawberry plant, but over a period of years.
So, I think that I see these tasks facing us in the coming year:
Keep going with the things we are doing well: Called to be Closer to Christ, Sent to be Closer to others.
Develop and call out a new leadership team that can:
Discern and share a clear vision and direction of travel, whilst providing leadership and coordination to different areas of parish life.
One plank of the new leadership team that the PCC have already agreed in principal, with the support of Bishop Mark, is the appointment of new staff member (replacing David Ash) as a mission enabler for the parish.
The idea would be that this person would be appointed to help us to reach out with the good news of Jesus to the communities around us. This would not be someone to come in and do the mission and evangelism for us, but to train us, teach us, encourage us – enable us in our mission and evangelism. The development of the role description for this post has been started, but will fall to the new PCC to decide upon. As we do this, there are some key questions that we will need to ask ourselves as a parish.
The first question is – Are we ready and willing to accompany this person? We cannot appoint someone and hope that they will do the work for us. We will be inviting someone to come and work with us, to train us up, to be our guide, but this will only be fruitful if we are willing to go with them.
The second question is – Are we ready and willing to change? If we appoint someone, and they spend some time with us and out in the communities of Wellington, they might suggest that in order to reach some of those communities we might need to change the way we do things. Are we willing to do that? For instance, we haven't got many 18-30 year olds in our congregations. If we are to reach that group we may need to do something differently in order to welcome them. We don't have many people coming to All Saints from the Hollies Road area. Are we willing to make the changes that might be needed to connect with the folk who live there?
The third question is – Are we ready and willing to commit? This kind of appointment is most effective when there is a long term commitment to it, when the person in it knows that they have the time and resources that are needed. We know that the diocese is committed, that funding is there to be used. We may have to top that up to support the ministry of a full time person. More important than the money, though, is our patience. Things like this can take a while. We had to hold our nerve and be patient with the young peoples and families work and that is beginning to bear fruit. Are we willing to commit to this, and stay committed even through the ramp up phase and the dry patches?
I am hopeful about the future of this parish. We stand on the shoulders of 900 years worth of Christian worship and ministry in this place. We serve and worship a God who is trustworthy and has shown this time and time again in the church in this place. We are in a good and healthy place. There are some challenges ahead, but nothing that need overwhelm us or daunt us. I believe that God is on the move, and that as we travel together, led by God, we will experience fruitful times in the coming years.